Terms & Conditions:
This scholarship has been created to assist, financially, students from the University of Sydney Nepean with their elective term.
The scholarship is awarded under the following conditions:
Applicants are to be Student Members of the NMA;
The name of the scholarship is "Nepean Medical Association Elective Scholarship";
The scholarship is to be awarded for those undertaking work overseas in an underprivileged environment;
This scholarship will be awarded by the Board of the Nepean Medical Association whose decision will be final;
The NMA reserves the right not to award a scholarship in any year;
The NMA may award one or more scholarships depending on the submissions received;
The NMA will determine the value of the scholarship(s) to be awarded annually;
The Elective has been approved by the Elective Committee, Sydney Medical School, Faculty of Medicine. This can be submitted at any time during the year;
Written proof of elective acceptance NB: the Scholarship can be awarded pending this approval.
Scholarships awarded:
2015 – 5 scholarships awarded, including 2 sponsored by the Nepean Private Hospital
2014 – 6 scholarships awarded
2013 – 8 scholarships awarded
2012 – 2 scholarships awarded
Annually 3rd year students are invited to apply for the NMA Elective Scholarship.
Submissions of about 250 words outlining plans for the elective period should be sent by email to Denise Thornhill, Executive Officer, Sydney Medical School Nepean at:
denise.thornhill@sydney.edu.au.
The submissions should include details of expected experience, travel plans as well as major anticipated costs indicating how the NMA Elective Scholarship can assist in the applicant's aims. Applications close on September 30 each year.
It is anticipated that the successful applicants will make a short presentation at the Annual NMA Dinner outlining their experiences on their electives.
Scholarship winners:
2015 – Melissa Smith, Aric Johnson, Siobhan Hensey, Wiraaj Agnihotri and Jeff Forest
2014 – Greta Devane, Nicholas Halliwell, James Hulls, Kay Mbalamweshi, Robert McLeod and Maria Naude.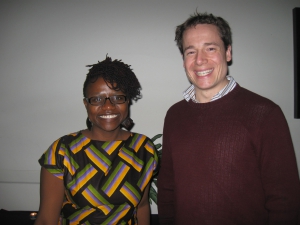 Scholarship winners Nicholas Halliwell and Kay Mbalamweshi at the 2015 annual dinner.
2013 – Daniel Campbell, Alex Holmes, Toby Hulf, Alana Kearsley, Robert Panchasarp, Sally Plunkett, James Sterrey and Genevieve Tse.
2012 – Emma Pratt and Jessica McEwan.