The Nepean Medical Association annual dinner is held each year in August or September. The Annual General Meeting is conducted during the annual dinner. The dinner is proudly sponsored by Barratt & Smith Pathology.
The 2017 dinner was held on Friday September 8 at Lakeside Restaurant, Sydney International Regatta Centre, Penrith. Out speaker was Professor C J Eastman AM who spoke of his long career helping people all over the world battle iodine deficiency. This included ground breaking work in China and Tibet in the 1980s and 1990s and more recently in Tasmania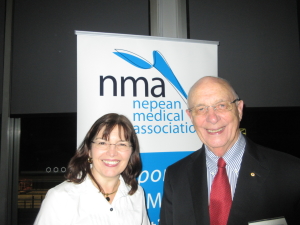 Dr Michelle Crockett and Professor Creswell Eastman
University of Sydney students and winners of the NMA 2016 scholarships – Bernice Yue Ong, Emma Cumming and Alexandra Lia Riccci shared their elective experiences. Bernice visited a very poor area in India, Emma a hospital in Fiji and Alexandra went to Mexico.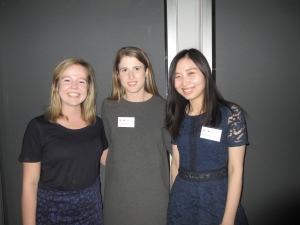 Emma, Bernice  and Alexandra
The 2016 NMA and Barratt & Smith Annual Dinner was held on Friday 2nd September at Lakeside Restaurant at Penrith. Our guest speaker Dr Bill Bestic, Consultant Anaesthetist, entertained all with his talk about his life experiences including his time as a SAS Officer. We all learned that "Failure is not Fatal".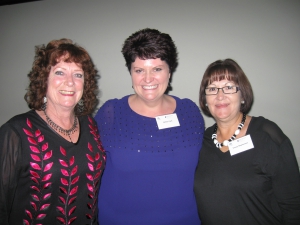 The 2015 NMA and Barratt & Smith Annual Dinner was held on Saturday 5th September at Rydges Parramatta. Our guest speaker Professor Hans Peter Dietz, Professor in Obstetrics and Gynaecology, Sydney Medical School Nepean Hospital provided a thought provoking talk entitled "They Promised us Robots".
---
In 2014 the 25th annual dinner was held on Saturday August 30 at the Waterfront Restaurant Circular Quay, Sydney. Our guest speaker was 5 times world champion, summer and winter games Olympian and medical student Jana Pittman. Jana shared her experiences as a sportsperson including her ups and downs, her injuries, her triumphs and her passion to become a doctor.
In 2013 our speaker was Associate Professor Drew Fitzpatrick who delivered an entertaining and informative talk entitled 'Affairs of the Heart' – a look at how cardiology has evolved over the years.
Previous speakers:
2013 Assoc Prof Drew Fitzpatrick
2012 Prof Michael Peek
2011 Prof George Condous
2010 Prof Mohamed Khadra
2009 Dr Todd Gotthelf
2008 Dr Ray Seidler
2007 Dr Michael Barratt
2006 Prof John Cartmill
2005 Dr Ryan Snaith
2004 Professor Neville Yeomans (Foundation Dean UWS Medical School)
2003 Dr Ian Fraser
2002 Paul Dillon
2001 Dr James Fitzpatrick (Young Australian of the Year)
2000 Dr Norm Southern
1999 Jackie Kelly MP
1998 Dr Keith Suter
1997 Dr Eric Donaldson
1996 Dr Bernie Hudson
1995 Dr David Weedon (President of the AMA)
1994 Senator Bronwyn Bishop (Shadow Minister of Health)
1993 Dr Bob Woods (Shadow Minister of Health)
1991 Dr Dermer Smith
1992 Ron Phillips (NSW Health Minister)
1990 Wendy Oakes