Nepean Medical Association Elective Scholarships
The NMA student scholarships are offered to students at the University of Sydney, Nepean Campus, in their final year who are undertaking an elective overseas in an underprivileged environment. Click here for terms and conditions.
The Winner for 2020 is:-
Christopher Parkes           Sponsored by Nepean Medical Assoc
The Winners of the Scholarships for 2019 are as follows:-
Alissa Burton                     Sponsored by Barratt & Smith
Amy Snow                         Sponsored by Nepean Private Hospital
Shamus Toomath             Sponsored by Nepean Private Hospital
Jineel Raythatha               Sponsored by Nepean Medical Assoc
Qian Ting Ching               Sponsored by Nepean Medical Assoc
Harleem Aulakh               Sponsored By Nepean Medical Assoc
Qian Ting Ching               Sponsored by Nepean Medical Assoc
Read about student experiences on their elective.
2018
The winner of the 2018 Scholarship was Alia Nabila Tun-Ismail who went to Pokhara, Nepal. 
Alia Nabila Tun-Ismail
Stage 3 Year 4
For the last four weeks of my elective I was incredibly fortunate to experience a unique cultural immersion in the humble city of Pokhara, Nepal. A quiet town boasting an ethereal mountainous backdrop of the Annapurna Range, it was here that I sought to experience medicine in a resource-poor setting. A typical day in our Paediatrics rotation at Gandaki Medical College consisted of ward rounds in the Paediatric Intensive Care Unit (PICU), the Paediatrics Ward, Neonatal Intensive Care Unit (NICU), Neonatal Care Unit (NCU) and finally, the post-partum ward for newborn checks. It was a disconnected comparison to my rotations at Nepean Hospital and the Children's Hospital Westmead, with incredibly crowded wards full of infectious children and their innumerable relatives. Patients were forced to buy equipment if a procedure needed to be performed and oftentimes this would need to be done outside the hospital, and we were unable to perform procedures until they purchased the necessary items. This was unnerving to see some children not receive immediate care because of the time cost afforded.
One of the highlights of my placement in Nepal was a health post in a nearby village, Pumdibhumdi. Only very basic conditions were immediately treatable at the village, and anything more serious would have to be transported to Pokhara (a few hours bus ride away on a very tortuous, bumpy road). I had done rural placements before in Sydney, where transportation and proximity of health services were still an important consideration in management. Even so, something as simple as a small soft tissue injury with potentially fatal complications was still so readily treatable, and it was confronting that this was not the reality of places such as Pumdibhumdi. This made me ultimately thankful for the standard of care and affordability of the Australian health system. Going into clinical practice I hope to be more aware of this and prevent wastage of resources we often take for granted.
Nepal was an incredible country to visit for a multitude of reasons: the friendliness and hard-working nature of its citizens; it's beautiful, indescribable connection with nature, that I experienced first-hand hiking up the Khopra Danda trail, reaching 4000m above sea level. I am so grateful to the Nepean Medical Association for making this elective possible for me, and investing in all the valuable learning experiences that I will undoubtedly carry forward with me in the years to come.
2017
The NMA awarded 6 scholarships in 2017. Two of these were sponsored by The Nepean Private Hospital and were awarded to Sarah Andela who went to Ecuador and Charmaine Chee who did her elective on the Medical Vessel, the Jubilee Hope, based on Lake Victoria in Tanzania, Africa. The recipients of the NMA awards were James Gray who went to South Africa, Emily Jenkins who went to the Solomon Islands, Liesel Woon who went to Zambia and William Wu who went to Vietnam and Nepal.
2016
3 scholarships were awarded to Emma Cumming, Bernice Ong and Alexandra Ricci. Emma went to Fiji, Bernice to India and Alexandra to Mexico.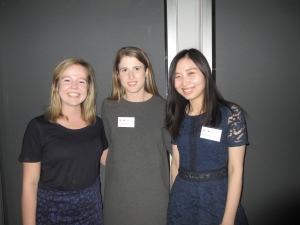 Emma, Alexandra and Bernice at the NMA dinner.
2015
The NMA awarded 5 scholarships in 2015. Two of these were sponsored by  The Nepean Private Hospital and were awarded to Wiraaj Agnihotri and Jeff Forest. The recipients of the NMA awards were Melissa Smith, Aric Johnson and Siobhan Hensey.
2014
The NMA awarded 8 scholarships of $500 for electives undertaken in 2014 to Daniel Campbell, Alex Holmes, Toby Hulf, Alana Kearsley, Robert Panchasarp, Sally Plunkett, James Sterrey and Genevieve Tse. Please click on each students name to read their story.
2013
The NMA awarded 2 scholarships of $1000 to Jessica McEwan and Emma Pratt. Jessica spent time at the Kilimanjaro Christian Medical Centre in Moshi, Tanzania working in paediatrics and Emma went to Cape Town South Africa working in the SHAWCO program. The SHWACO program is a student community organisation that aims to improve the quality of life for the disadvantaged people in Cape Town.